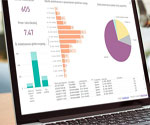 Business Intelligence will help organizations to know its growth opportunities ,streamline costs and enhance operational efficiencies and increase profitability.
Success and Failure of enterprise can be decided by shrinking time to market, enhanced competition and a dynamic business and technology landscape, availability or non-availability of meaningful business intelligence. We are expertised at MS SSRS
Analysing the client DW/BI environments
We review Client's DW/BI environment.
Strategy
Supported by the Analysing service outcomes, our DW/BI professional consultants, along with domain experts, help our clients devise DW/BI strategy to meet their future requirements.
Tools
We leverage our industry expertise to provide an assessment or simply assist by providing an unbiased second opinion during phases where the customer is trying to choose from the vast array of tools and strategies so as to plan the BI, Data Warehouse Management or Data Integration technologies.
Solution
After the initial Analysing and strategy phases, our team of specialists offers the client the Data Warehouse design.
For more information , please contact us.