Custom Purchase Software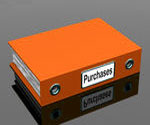 Purchase management system is used by the organization to save, manage all the related information about their purchase indicating the prices for the products or the services they provides for the buyers. Purchasing software management is designed to complement any organization's purchasing policies by providing a single interface for all activities across the organization for improving the purchasing process.
We at Chloros technologies provide cost-effective Customized purchase services for organizations that can automate their purchasing processes. Our purchase order services have satisfied path for an effective Purchasing automation and control for clients. We provide large and medium size purchasing suite that includes the entire purchase-to-pay cycle. Purchase management applications have proven results to help organization save paperwork and time
Key Benefits of using Purchase Software management:
Decrease costs of heavy paper based or using offline purchase order approvals.
Efficient time management.
Gain back control of your purchasing practices.
Store Customer and Product information centrally.