Portal Services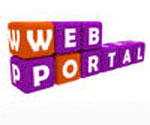 Chloros technologies provide Web portal development to clients for their business in different streams. Web portals are best cost effective solution for grouping peoples. We offer development of web portals using current and latest technologies that assures perfect quality design, development and deployment of the web portals. Our team takes full responsibility of design, development and implementation of the web portal software applications.




Web Portal Development
We have experts who can put together user friendly portals with facilities for customizing as per their business. We also provide Customized portal development for the web applications already in use. We also provide B2B and B2C portal solutions. In the economy of today, portals have become anytime-anywhere access which are centralized for submitting information online, communication, and automating business processes through connecting all applications and web servers.
B2C solutions for various business based on the organization targets. Our web portal solutions integrate an excellent design with a latest technology and tools compatibility. Web portals developed by us have Consistent look and feel, easy usability and customizable features are some of the few benefits.
Our portal services include
E-commerce portal development
Real estate portal development
Hospitality portal development